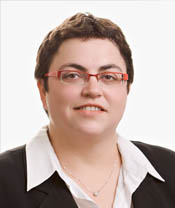 Iris Getz
VP Corporate Development - Exent
As Vice President Corporate Development in Exent, Ms. Getz is responsible for identifying and defining Exent's long term growth opportunities both in new markets as well as identifying and pursuing non-organic growth opportunities.
Ms. Getz has more than 20 years of experience in business, marketing, technology and management. Prior to joining Exent, Ms. Getz spent 9 years in the venture capital business, performing company due-diligence, investment negotiations, serving on the BoDs of several early stage companies and helping portfolio companies establish market strategy. In her last position she was a General Partner at Magma Venture Partners. Prior to the venture capital market, Ms Getz was involved in the telecom equipment market at Orckit Communications (NASDAQ ORCT) and spent more than 10 years in the military. As Senior Director of Planning and Business Development at Orckit Communications, she was responsible for establishing the relationships and negotiating with partner companies and contractors, managing engagements with strategic customers (Broadband Service Providers) and researching the company's market and competition.
Ms. Getz is a graduate of the prestigious "Talpiot" excellence program. She holds a B.Sc (cum laude) in Physics and Mathematics, an M.Sc. (summa cum laude) in Applied Physics from the Hebrew University in Jerusalem, and an executive M.B.A (cum laude) from Tel-Aviv University.